Mechanical Counters for Industrial Applications
Mechanical Veeder-Root products set the industry standard for rugged reliable solutions for piece counting, linear measurement and position indication.
Mechanical counters serve as the primary counter in some applications; however, they are also popular as a backup to electronic devices where a redundant or failsafe counter is needed.
Veeder-Root Mechanical Counters are rugged yet reliable solutions to piece counting, linear measurement, and position indication. Our extensive portfolio of heavy-duty counting devices serves many applications, including:
Oil, gas or water meters

Tool tracking for preventative maintenance,

Secondary counting for electrical devices in case of power failure,

Mileage/ distance tracking for heavy-duty equipment

Process or goods tracking throughout manufacturing facilities
Shop All Mechanical Counters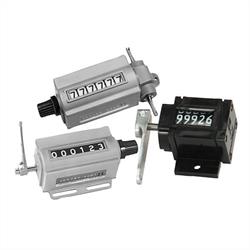 ---
Commonly Asked Questions About Mechanical Counters
What is a Mechanical Counter?
A mechanical counter is a counting device powered by the movement of a ratchet. Mechanical counters serve as indicators or totalizers for individual items or sequences of events.
How Do Mechanical Counters Work?
With no power source needed, mechanical counters operate based on the old principle of carrying over. A rotary or ratchet input prompts the mechanical counter to increment the turn of a simple number wheel. Often viewed as primal technology, mechanical counters are integral components of many applications where advanced technology is not reliable or durable.
What Are Electric Counters?
Electric counters offer a single or multi-functional digital counting solution time indication (such as in time meters and clocks) or rate indication (such as tachometers). Unlike mechanical counters, electric counters boast easy-to-read LED displays. Learn more about electronic counters here.