Process Indicators
Process indicators or panel meters are used for display and/or control of process variables in applications that use analog signals representing pressure, temperature, weight, etc. Our instruments are especially well suited for analog-input measurements in industrial environments.
Digital process indicators or panel meters can be used with a variety of input sensors. DC voltage sources include pots, power supplies, motor drives and DC tachometers. DC current sources include instrumentation, speed references and process controllers. Current loop and process volts signals can originate with flow meters, pressure transducers, temperature sensors and signal transmitters.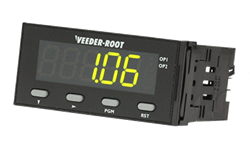 DC Volt/Amp Meters
DC Volt Meters will display in proportion to the voltage applied to the input. Several input ranges allow their use in a variety of applications. In the lowest range, DC volt meters can replace analog meters and provide more resolution and accuracy.
S628 Series Process Indicator for DC Volts/Amps

Primary Display: 5 digits; Secondary Display: 1 digit | Dimensions: 48 mm x 96 mm | Display Type: Red/Green, 7 segment LED | Max Count Speed: N/A

Shop Series
DC Process Meters
DC Current Meters are popular when noise interference can disrupt voltage levels and are common signals used to drive analog meters.
S628 Series Process Indicator for DC Process

Primary Display: 5 digits; Secondary Display: 1 digit | Dimensions: 48 mm x 96 mm | Display Type: Red/Green, 7 segment LED | Max Count Speed: N/A

Shop Series
S628 Series Process Indicator for AC Volts/Amps

Primary Display: 5 digits; Secondary Display: 1 digit | Dimensions: 48 mm x 96 mm | Display Type: Red/Green, 7 segment LED | Max Count Speed: N/A

Shop Series
S628 Series Temperature Indicator

Primary Display: 5 digits; Secondary Display: 1 digit | Dimensions: 48 mm x 96 mm | Display Type: Red/Green, 7 segment LED | Max Count Speed: N/A | Front Panel Rating: NEMA 4X/IP65

Shop Series