Totalizers
A totalizing counter or totalizer is a counter that sums the "total" number of cycles applied to its input. Many applications require only additive counting, but we also offer electronic totalizers with bidirectional (add and subtract) capability for specialized application.
Common totalizer applications are: item or piece counting, machine cycle counting, material length measurement, position display, and fluid or gas volume totalizing.
Mechanical and electric totalizers are visual display devices that register counts based on a rotary or ratcheting input. Readout is usually via decade-wheels that have 0-9 numerals printed on a contrasting background color. Most types are available with a count capacity of 4 to 8 digits.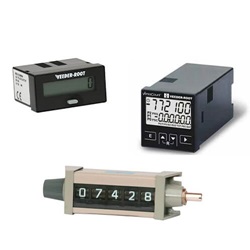 Electronic Totalizers
Electronic totalizers bring the advantages of modern digital displays, high counting speeds, silent operation and long life. Their high speed and compatibility with a variety of sensors makes them ideal for precise measurement of length or position, as well as totalization of fast moving items, liquid/gas volume, and other demanding tasks.
Electro-Mechanical Totalizers
Elecro-mechanical totalizers can be installed at locations that are remote from the origin of the count signal. The input signal is a voltage source, impulsed through switch or relay contacts, or a proximity switch or photoelectric sensor. We offer a variety of packaging and mounting styles, and reset features, and have standard models covering all popular AC and DC voltage ratings.
7790, 7791 Series Miniature Totalizer

5 or 6 digits | Dimensions: Panel Mount: 36.5 mm x 29.4 mm | Display Type: Mechanical | Max Count Speed: 600-800 cpm

Shop Series

7437, 7438 Series Reset & Non-Reset Totalizer

Reset: 5 digits; Non-reset: 5, 6, 7 digits | Dimensions: Panel mount: 50 mm x 37.3 mm | Display Type: Mechanical | Max Count Speed: 600 cpm

Shop Series
Mechanical Totalizers
Mechanical totalizers are very easy to install and operate, and require no operating power or input sensors. Counting is accomplished through direct coupling to a rotating or reciprocating machine element, such as a shaft, measuring wheel, lever, or cam. Flexible enough to fit almost any application – many mounting styles, count capacities, drive ratios, shaft rotations and reset features are available.